Pareto Analyse - ABC-Analyse
Application - Use - Example - Tools - Templates
The Italian economist Vilfredo Pareto, 1848-1923, found out, that with 20% of the time exposure 80% of the results were reached. Also many software phenomena follow a 80/20-Pareto distribution:
20 percent of the ...
80 percent of the ...
Modules
Consume
Contribute
Consume
Resources
Errors
Execution time
Errors
Consume
Repair costs
Enhancements
Consume
Adaptive maintenance costs
Tools
Experience
Tool usage
Application
Pareto analysis is used for identifying the one or two situation categories in which most of the problems occur.
A chart (Pareto diagram) represents visually the distibution of studied occurrences, whereby the most frequent occurrence is represented on the left-hand side. The other occurrences will be represented in descendeing order to the right.
Use
Define the categories to be studied (5 to 10 categories).
Sort the data (new and representative) into categories.
Arrange the categories in a descending order by data.
Make a bar graph, highest category left.
Check the diagram for Pareto pattern.
If the highest categotries are responsible for the most of the effects:
then: Use the Pareto diagram as a guide for taking measures or for further analysis.
else: The choice of categories should be verified.
Example
Cause for customer problems, categorized by process steps.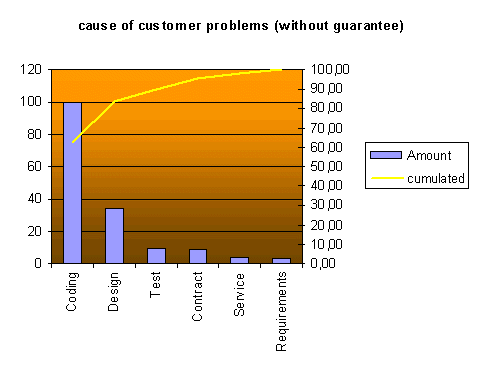 Tools
MS EXCEL
StarCalc
Templates
MS EXCEL- activate the macros